9 September 2021
Senate Standing Committees on Economics
The Group of Eight (Go8) is pleased to make this submission to the inquiry on The Australian Manufacturing Industry. Please note the Go8 is happy for this submission to be published in full.
The Go8 represents Australia's eight leading research-intensive universities. The Go8 carries out 70 per cent of Australia's university research and spends some $6.5 billion on research each year. As a collective we:
are consistently the highest ranked Australian universities across the major international ranking systems (Academic Ranking of World Universities; the Times Higher Education World University Rankings; and the QS World University Rankings);
educate around one in three international students who choose to study onshore in Australia;
account for more than half of all Australian papers with international collaboration; and
attract industry funding for research that is twice that of the rest of the sector combined[1].
Whilst this submission is relevant to the Terms of Reference, it particularly aims to address Australia's advanced manufacturing industry:
g. the role that government can play in assisting our domestic manufacturing industry, with specific regard to:
i. skills and training;
vi. research and development
COVID has underscored (and as the Prime Minister has continually stated) that Australia must develop greater sovereign capability; capability that supports and accelerates a revitalised and strengthened economy better suited to post-pandemic realities – and this sovereign capability will be found by engaging with like-minded partner countries rather than from and without them.
As the shape of the post-COVID world emerges, it is already apparent that access to global research talent and skills in emerging technologies is increasingly fiercely competitive, and that access to a range of partnerships between domestic and international industry, Government, and research networks will become increasingly important.
Australia cannot afford to become an economic and research island, and nor can its research-intensive universities or industries be separate from the world. This is especially true of advanced manufacturing which requires a range of cross-disciplinary inputs.
The Go8 recommendations are set out below. The reasoning behind them follows.
As a short foreword to our recommendations and the detail that follows to reinforce them, the Committee may have expected the Go8 to begin with a research focus. Rather, we begin with a skills focus, because if we cannot develop and/or source the skilled human capital that is required to propel a far more sovereign nation then we have all failed – Government, universities and the business community/industry.
Research development that is translated for economic growth is both critical and urgent but so too is harnessing the required skills.
Recommendations:
Skills
The Go8 produces more than 40 per cent of Australia's engineering graduates. We know they are the professional 'grunt' of our future economic growth. Therefore, the Go8 strongly supports an approach that mirrors that adopted in the Department of Industry, Science, Energy and Resources Australia's National Resources Workforce Strategy. The Department should, as a matter of urgency, prioritise and develop an Advanced Manufacturing Workforce Strategy that incorporates a specific focus on engineering skill shortages, and which also assigns a clear role with defined actions and targets for the Australian Government's Global Business and Talent Attraction Taskforce.
Implement Recommendation 10 of the Final Report of the Joint Standing Committee on Migration Inquiry into Australia's Skilled Migration Program (as reproduced in Annex 1) which seeks to fast-track post-study work arrangements for student graduates who demonstrate excellence in fields in which Australia has a persistent skills shortage – this will include skills in a range of disciplines that are relevant to Australia's advanced manufacturing sector.
Fast-track mutual recognition of qualifications and licencing with like-minded countries (taking into consideration National Security implications) in disciplines of critical emerging technologies relevant to advanced manufacturing and other key 'next wave', research-intensive industries.
Quality research
Improve mobility between Australia and like-minded countries for talented researchers. This includes academics and higher degree by research students, but especially industry partner researchers. As per the Go8 and IP Group Australia Roundtable submission to the Department of Education, Skills and Employment's University Research Commercialisation Consultation Paper[2]:
Develop a 10-year strategy to increase the translation of university research into economic benefit that can ensure national sustainable growth. This plan must be developed jointly and owned by the highest levels of government, industry and universities with a high degree of coordination across sub-groups of each, and with clear and coordinated accountability for the strategy's delivery residing within ONE Office of Federal Government. The Go8 considers this to be the most effective approach to mobilising our research so it can benefit Australia's economy, especially in areas of emerging, research-intensive technologies, such as Australia's advanced manufacturing industry: remembering at all times that this sector requires relevant skills urgently.
Establish a National Centre for University and Business to build research commercialisation relationships, including in advanced manufacturing. This Centre could and should engage in international outreach with international industry and university partners from like-minded countries.
Context
Sitting with Government and the business community, the Go8's research-intensive universities are the essential third national partner for sustained development of Australia's advanced manufacturing sector and other 'next wave' industries – industries that are reliant upon emerging, research-intensive technology as noted in the Executive Summary of Make It Happen: The Australian Government's Modern Manufacturing Strategy:
"The goal is for a partnership between Government, industry and the science and research community to develop manufacturing to deliver positive economic outcomes and create jobs."[3]
Go8 universities have foremost responsibility for Australia's advanced manufacturing research excellence as well as importantly developing the majority of Australia's top-quality higher education talent – including the engineers, scientists, and other professionals – that the advanced manufacturing sector requires to grow.
These are disciplines as broad ranging as automation, data analytics, robotics, machine-learning, quantum computing, photonics and space engineering – amongst many others – which combine to contribute to Australia's advanced manufacturing capabilities.
Research excellence in advanced manufacturing
Go8 universities possess a well-established record of excellence in research relevant to advanced manufacturing.
Based on the most recent Excellence in Research for Australia (ERA) evaluation undertaken by the Australian Research Council in 2018, the Go8 generated $2.56 billion in research income relevant to advanced manufacturing with 42 per cent of that income attributable to the highest rated research, Rating 5 ("well above world standard").
Go8 Research Excellence Delivering on Advanced Manufacturing[4]

The Go8 also hosts several research groups relevant to advanced manufacturing, including but not limited to:
Furthermore:
University of Sydney and University of Melbourne participate in the Innovative Manufacturing CRC.
All Go8 universities are members of the Advanced Manufacturing Growth Centre[13].
The Go8 spends some 54 per cent of the higher education sector's expenditure on manufacturing R&D ($297 million in 2018)[14].
The Go8's capacity to produce excellence in advanced manufacturing research is demonstrably apparent.
However, the Go8 agrees that mobilising this research to ensure it consistently delivers outcomes for industry – and Australia – requires further strengthening.
The Government too has recognised this deficit and is currently scoping a University Research Commercialisation Scheme[15].
The Go8 in its submission[16] to the Department of Education, Skills and Employment (DESE) consultation on the proposed Scheme, recommended as set out above, the development of a 10-year strategy to increase the translation of university research into economic benefit that can ensure national sustainable growth. It would focus on the key prongs of human capital, investment capital and how they interface with each other – namely research institutions (universities and publicly-funded research organisations) and industry.
This includes the mobilisation of research to benefit our Australian advanced manufacturing industry.
A longer-term approach reflects that many measures required to increase translation do take time to yield results. Business planning cycles are also served by this extended timeframe. It requires policy consistency and coherence across multiple electoral cycles to enable universities, researchers, industry and investors/entrepreneurs to respond, to shift the culture and to deliver outcomes.
Further, clear accountability for delivery of the strategy should reside within an Office of the Federal Government. This office would coordinate across departments that engage with university research. A dedicated entity is required given the nature of university commercialisation as distinct from 'start-ups' in general.
Currently policy measures can be disjointed and inefficient because there are multiple departments and agencies (education, industry & innovation, health, defence) directly or indirectly involved with the translation and commercialisation of university research.
In addition (and intersecting with the discussion on skills), Australia must further improve the mobility between our nation and like-minded countries for talented researchers. This includes academics and higher degree by research students, but especially industry partner researchers, who help form an important part of the bridge of commercialisation and business improvement between research and industry.
Attracting and developing the essential talent in advanced manufacturing
The Go8 is the dominant provider of qualifications in the key disciplines that are needed to develop our advanced manufacturing capability, namely: science and engineering.
The eight universities which make up the Go8 graduate just over a quarter (26.4 per cent) of Australia's total higher education students. (in a sector of 39 public universities).
We are responsible for 40 per cent of enrolments in engineering and related technologies; and for almost half of natural and physical sciences enrolments[17].
Six of the largest 11 Australian universities for engineering and related technologies by enrolments are Go8 universities, and Go8 universities account for the top six largest universities for natural and physical sciences.
Top 15 universities by engineering enrolments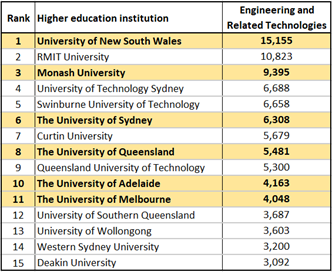 Top 15 universities by sciences enrolments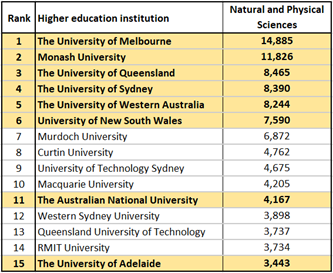 However, Australia's relative production of engineering graduates remains  significantly lower than its OECD peers: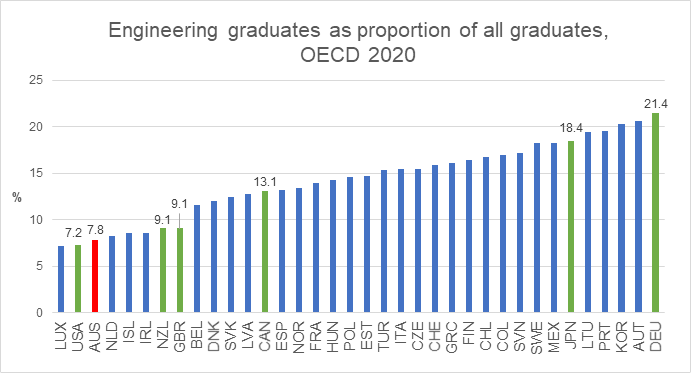 Source: OECD Education at a Glance 2020[18] (with selected highlights)
Broadly speaking, Australia has three options to develop the significant additional talent and skills needed for our advanced manufacturing sector.
1. Develop or re-attract Australian talent.
The Go8 acknowledges that one positive from COVID is the number of our highly skilled professionals who have decided to relocate home to Australia, and, aided by the benefit of an international experience, are now using their careers to build Australia[19].
Additional efforts should also be made to increase the number of quality domestic engineering graduates.
However, as a mid-sized nation, Australia needs mechanisms to supplement our domestic talent pool wherever it may be lacking, especially in the new and emerging areas of technology that are increasingly critical to sectors such as advanced manufacturing.
It is already clear that the increased demand from Australian industry for the next wave of skills cannot be met by our domestic talent alone.
2. Provide easier pathways for high-performing international students at Australian universities in disciplines with persistent skills shortages to remain in Australia after graduation, whether temporarily or permanently.
This approach provides a quality guarantee as the students will have met the university-level Australian Qualification Framework standards and, where relevant, can secure Australian professional peak body accreditation.
This approach was recently endorsed in Recommendation 10 of the Joint Standing Committee on Skilled Migration inquiry report on Australia's Skilled Migration Program (as reproduced in full at Annex 1).
3. Attract existing global talent to relocate to Australia through targeted migration pathways, recognising that the current closure of the International border due to COVID does present a short to medium term obstacle to this approach. However, closed borders notwithstanding, these specialists can help to develop new domestic industries and businesses by sharing and building new knowledge bases onshore. Automatic or otherwise more effective mutual recognition of the qualifications of global talent will help to smooth and facilitate this process.
One measure of Australia's success will be the level of demand amongst highly skilled people seeking to relocate here. It is important that the right mechanisms – from expedited visas to exceptional national and State knowledge of skilled migrant requirements – are in place to facilitate this process.
The Go8 believes that, with the right policies, including a targeted and calibrated balance between temporary and permanent migration settings, we can maximise our domestic potential, build new knowledge areas, and ensure Australia's success as a leading and engaged sovereign nation.
To tie these options together into a coherent strategy, there is an urgent need to develop a National Advanced Manufacturing Workforce Strategy. Given the relative lack of engineering graduates in Australia, this strategy should incorporate a specific focus on engineering skill shortages.
In conclusion:
The Go8 contends that Australia must proactively develop the additional domestic talent that is needed for Australia's advanced manufacturing sector and become much more agile in attracting global talent to fill the subsequent but unavoidable gap.
Whether they be international students graduating from Australian universities or talent based overseas, a fundamental element of this approach is to simplify the proposition for global talent in areas of high demand to temporarily or permanently remain or relocate to Australia.
As the critical third partner to the Government and the advanced manufacturing industry, the Go8 looks forward to its ongoing engagement to secure the best outcomes for our research, talent development, and industry outcomes in Australian advanced manufacturing.
If you have questions regarding the submission, please do not hesitate to contact me directly at vicki.thomson@go8.edu.au or +61 417 808 472.
Yours sincerely
VICKI THOMSON
CHIEF EXECUTIVE

Annex 1: Recommendation 10,
Final Report of the Inquiry into Australia's Skilled Migration Program
Reproduced from pxi-xii of the Final Report of the Inquiry into Australia's Skilled Migration Program, Joint Standing Committee on Migration, August 2021; full report available at:
Recommendation 10
3.73 The Committee recommends the Government consider changes to post-study work arrangements for a subset of international student graduates where those graduates have:
Undertaken a university course (or a course run by a reputable non university higher education provider) leading to a job in an occupation with a persistent skills shortage
Demonstrated excellence for instance by graduating in the top ten per cent of all graduates in their course or achieving first class honours
Met relevant English language standards
On graduation, worked in a job that is relevant to their field of study with a persistent skills shortage
Such graduates would be eligible for a discount on the work experience component for permanent residency under the employer nominated scheme from three years to two years.
For graduates applying for a points-based visa, additional points could be awarded for those graduates meeting the above criteria.
The Government should also consider longer temporary graduate visas of three years to provide time and flexibility for graduates to find work.
As a special integrity measure the Tertiary Education Quality and Standards Agency should undertake special and regular audits of the assessment of excellence measure to ensure standards are maintained.
---
[1] Go8 Facts of Distinction 2020; see: https://go8.edu.au/wp-content/uploads/2020/01/Go8-Facts-of-Distinction_web.pdf
[2] See: Specific measures https://go8.edu.au/response-to-the-university-research-commercialisation-consultation-paper-on-behalf-of-the-group-of-eight-and-ip-group-australia-roundtable
[3] p7, Make It Happen: The Australian Government's Modern Manufacturing Strategy, Department of Industry, Science, Energy and Resources, 2020, https://www.industry.gov.au/sites/default/files/October%202020/document/make-it-happen-modern-manufacturing-strategy.pdf
[4] Derived from Go8 ratings of 5 against Fields of Research relevant to advanced manufacturing; p11, Enabling Australia's Economic Recovery Through Supporting Research Excellence, Group of Eight, 2020, https://go8.edu.au/wp-content/uploads/2020/09/Go8_Research-Excellence.pdf; Data relates to the period between 2014 and 2016
[5] See: https://www.adelaide.edu.au/ipas/
[6] See: https://camph.eng.unimelb.edu.au/
[7] See: https://www.monash.edu/mcam/home
[8] See: http://advanced-composites.co/
[9] See: https://www.unsw.edu.au/engineering/mechanical-and-manufacturing-engineering/research-mech/research-groups/advanced-manufacturing-materials-structures-engineering-amase
[10] See: https://mechmining.uq.edu.au/research/advanced-materials-processing-manufacturing
[11] See: https://www.sydney.edu.au/research/facilities/sydney-manufacturing-hub.html
[12] See: https://www.mrg.uwa.edu.au/
[13] See: https://www.amgc.org.au/our-members/
[14] Australian Bureau of Statistics 2020, Research and Experimental Development, Higher Education Organisations, Australia, 2018
[15] See: https://www.dese.gov.au/urc
[16] See: https://go8.edu.au/response-to-the-university-research-commercialisation-consultation-paper-on-behalf-of-the-group-of-eight-and-ip-group-australia-roundtable
[17] As of 2019 (latest data), by broad field of education: uCube Higher Education Statistics, Department of Education, Skills and Employment, http://highereducationstatistics.education.gov.au/
[18] OECD Education at a Glance 2020, Tertiary Graduates by Field, 2020, https://data.oecd.org/students/tertiary-graduates-by-field.htm#indicator-chart
[19] Between 13 March 2020 and 1 February 2021, 456,981 Australian citizens and permanent residents arrived in Australia; Question in Writing #497, House of Representatives, Australian Parliament House, 8 April 2021; see: https://parlwork.aph.gov.au/house/questions/497